Our Story
Pheasant Game Farm
We are a Pheasant and Chukar Game Farm, as well as a Yellow Perch Fish Farm near Beaver Dam Wisconsin. We offer some of the best native Wisconsin habitat available. We have cattail, canary grass, sorghum fields, dogwood, prairie grasses, and small wood lots to name a few. When the heavy snows of winter make the cover lay down, our late season cattail hunts kick into high gear. We always have exceptional habitat no matter what time of the year you want to hunt.
My wife and I purchased the game farm on September 30th of 2008 and the whole Sackett family has been working tirelessly on it ever since. Our first goal was to provide the highest quality birds possible and I believe we have done that. We have researched and found a high quality strain of pheasant that develops above average tail feathers, and also found a superior feed that is high in protein which allows the pheasants to feather out properly. Because of that, they provide a fast flying, high energy, high quality hunt. We want you to go away thinking our birds and habitat gave you the real Wisconsin pheasant hunting experience!
We have removed old trees on the property, ripped out fencelines, we are working with the Wisconsin Waterfowl Association, US Fish and Wildlife Service, WDNR, and Ducks Unlimited, to improve the wetlands on our property. We are planting bushes and grasses to improve upland habitat, practicing predator control, and doing major improvements to the buildings. We also have a heated clubhouse to warmup and have a complementary beverage.
At Cedar Hill we do things differently. We have the entire parcel behind the house and the land across the road for either the morning or an afternoon hunt. Morning hunts can start around 8:00 or 9:00, and the afternoon hunts start at noon or 1:00. If we have no other bookings that day, you are welcome to spend the entire day. You will never see another hunting party while hunting at Cedar Hill. When you book your hunt, the entire parcel on either side of the road is yours for the morning or afternoon. If you shoot more than you released, no worries, scratch birds are free.
We will be starting August 1st for those guys that would like to get an early start training those new pups. This should allow plenty of time to get these young dogs tuned in for the upcoming fall hunting season. You will continue to see big improvements at Cedar Hill. We have superior birds at reasonable prices released on exceptional habitat and remember scratch birds are always free. If you're looking for a true Wisconsin pheasant hunt, try Cedar Hill Game Farm. We guarantee you will have a quality experience.
Come hunt with the giants of customer service. You won't be disappointed.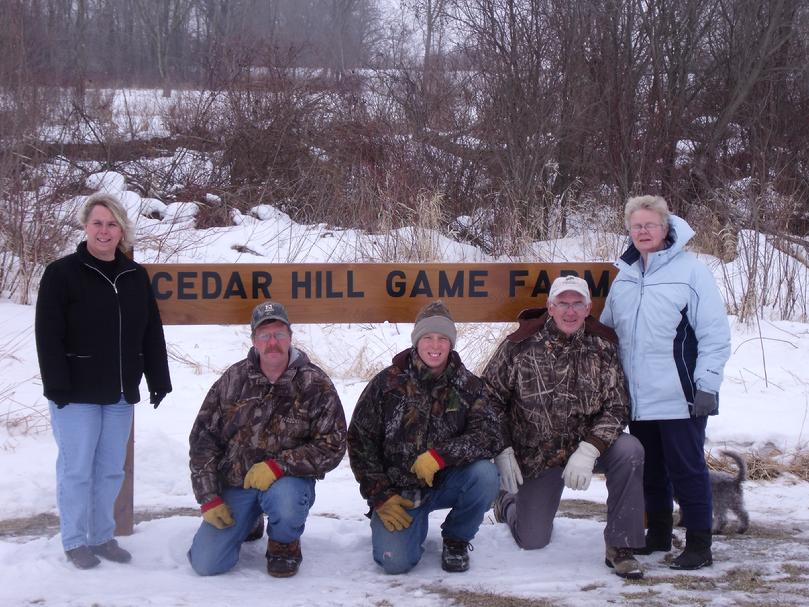 The Owners
Carrie and Doug Sackett
From left are Carrie and Doug Sackett, owners of Cedar Hill Game Farm since September of 2008. Carrie is also the owner and operator of Total Business Products with a store in Beaver Dam. Doug is a retired fulltime fireman/emt advanced for the City of Beaver Dam. Doug served Beaver Dam and the surrounding area from February of 1989 through May of 2015 and was a volunteer for the department for 5 years prior to his promotion in 89. Doug handles most of the day to day operations of the game farm. Doug and Carrie have two children, Eric who is pictured in the center and is a graduate of Ripon College and is currently working for the City of Beaver Dam Water Treatment Facility. Rachel is currently enrolled at UW Oshkosh. Both are married and Eric and his wife have two children. On the right are Doug's parents Larry and Eunice. Larry and Eunice spent many hours at the farm. Larry passed in December of 2021 and was a retired Real Estate broker who also sold insurance around Beaver Dam for many years. Eunice worked for a long distance provider at the time of her retirement, and also worked at Monarch Range in Beaver Dam for many years until their closing.
Testimonials
CLIENTS ABOUT US
I introduced my daughter to Pheasant hunting at Cedar Hill Game Farm, away from the crowds typically found on public hunting grounds.  Whether you're introducing a youth to hunting, taking the puppy out for his first try at Pheasants, or just wanting to spend quality time in the field with friends, Cedar Hill is an excellent choice.

Awesome place. Owners and staff are extremely friendly. Will be going back again on another hunt

Great place to bring your pup or your old lady.You have the whole farm to yourself and Doug goes out of his way to make sure you have a great hunt.

I brought my 6 month old lab out to Cedar Hill in mid September. Doug helped set myself and my dog up for a successful hunt and donated his entire morning to offering advice and ensuring a spectacular service. You don't get that type of treatment from many game farms and for that reason I have been back two times since!! Thanks Doug!!

Doug does a fantastic job with the hunt. He takes his time and gets to know his clients and works at their experience level.

I hunt and shoot a lot of pheasants during the normal season on public lands so this was my first time on a game farm with my brother. It was an absolute blast! If you are thinking about trying it, DO IT! Great host, great land, and great birds. They make you feel like you're hunting with a best friend. I love the variety of land and how he tries his best to make the hunt as natural as possible. Ended the day with 7/10 pheasants with one miss, over all great day and will for sure be back! Thanks again!!

Doug is a great host, makes you feel like your hunting with your neighbor. We hunted his first weekend this year 8/2/14 with a young dog & had a great morning. It doesn't matter if your looking for a nice relaxed hunt on quality birds or breaking in new dogs and shooters I'd highly recommend Cedar Hill. We will be back, thanks again Doug for a great morning.